Our factory mainly produce CNC Busbar Processing Machine, busbar processing machine is the light of foreign advanced prodcts, combined with the actual situation in China, in order to improve work efficiency, to save hours of eork, while the design and manufacture.
Suitable for transmission and distribution in a large workshop and site work construction, and power distribution cabinets and switch cabinets, ect.
The use of electrical appliances factory.
The machine is equipped with: bending, cutting, punching functionality.
Optional foot switch or wire switch, easy to operate.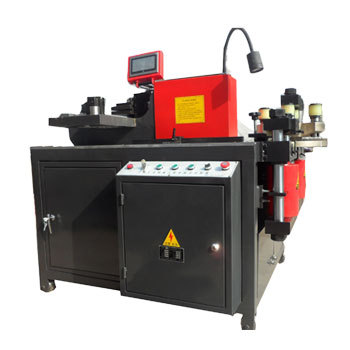 1. What is your payment terms?
40% TT as deposit, balance be paid when goods are ready for loading before shipment.
2. What is your delivery time?
Usually within 7-25 days after the deposit.
3. What is your power supply?
We will adjust according to your countries power supply. No problem.
4. What is your Min order quantity?
One set. Our customers can be end users, retailers and wholesalers.
5. Are all the Labels and instructions of the machine in English?
Yes. the labels on the machine and the Manuel books are all made in English version.
6. Besides this machine, do you have any other options for me?
We have dozens of options for you:
CNC busbar machine; Non- Cnc Busbar Machine, combined Busbar Machine,
busbar cutting tools, busbar bending tools, busbar punching tools.
hydraulic pumps, hand pumps etc.