Drilling machine is a complex machine consisting of a machines, units and mechanisms, it is a mechanical equipment in the development of exploration or mineral resources (including solid, liquid, gas, etc.) to drive Drilling Tools into underground and obtain physical geological data. Drilling machine is also called drilling rig. The main function is to drive the Drill Pipe to break bottom rock and to drill down or put in the hole. Drilling machine can be used to drill cores, ore cores, cuttings, gaseous samples and liquid samples, so as to identify underground geology and mineral resources. And also used to drilling water wells.
Shandong Hengwang Group manufactures Hydraulic Water well drilling rig and DTH drilling machine.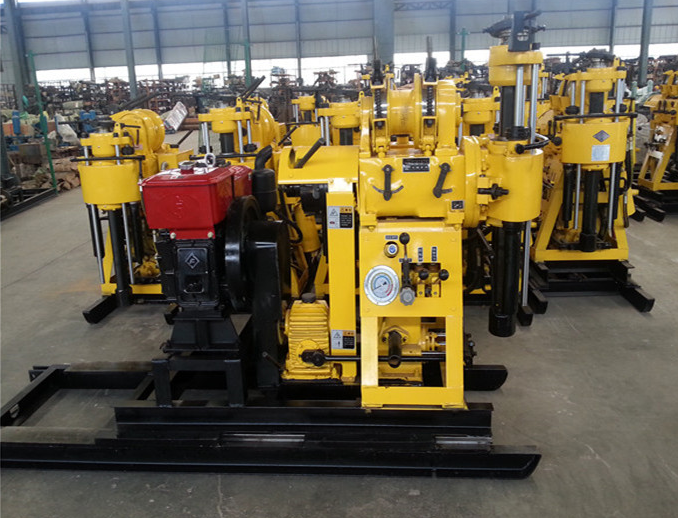 Drilling machine for drilling water wells:
1, HW Serious Hydraulic Water Well Drilling Machine (HW160/190/230)
Application:The hydraulic drilling rig is suitable for drilling water well, geological survey, geological core drilling, small grouting holes, blasting holes of railway, water conservancy, bridges, dam foundation and other buildings. According to different strata, it drills by choosing different bits, such as diamond composite films and alloy.
2,Pneumatic water well drilling rig (DTH drilling rig)
1) HQZ(150/200) Pneumatic well drilling rig (Wheel type)
Application: Suitable for workers, civil drilling, geothermal drilling, with a large diameter drilling, deep drilling, mobile and flexible application of geographical advantages.
2) HQZ(150L/180L/260L/300L/400L/500L) Pneumatic water well drilling rig (crawler type)
If you have any questions, please contact with us directly. Drilling machine is produced by HW Group with high quality. Welcome to visit our factory. For inquiry, please send mail directly to us.