Exploration Drilling Machine is fully hydraulically driven, and air drilling and air shock drilling are used in mountainous areas.
Portable drilling machine use frame combination method, combination and splitting are quick and easy, easy to move
This machine for rock drilling Can be widely used in rugged mountains and other areas where vehicle rigs cannot operate.
Drilling efficiency is high, making the operating cost cheap
Model

HW-S30

Drilling depth

30m

Drilling method

Pneumatic Hammer drilling

Screw drilling and mud drilling(alternative)

(mm)Drilling diameter

pneumatic hammer drilling

rock70-90, soil75-95

75-90

drill rod(Dia*Length)

(mm) pneumatic hammer

drilling

Φ60×1500

Power head

Torque

800-900N.m

Drilling speed

0-135r/min

Drilling pressurization and lifting

Feed pressure

5500-6000N

Lifting power

12-16KN

Max lifting speed

0.71-0.81m/s

Main engine power/speed

26KW /3600R/MIN

hydraulic system

Flow

0-60L/min

Working pressure

20Mpa

air compressor

Type/Quantity

Piston/1 unit

Screw

(m3/min)Flow

3.5

3.8

Pressure

0.8Mpa

Engine power/speed

26KW /3600 R/MIN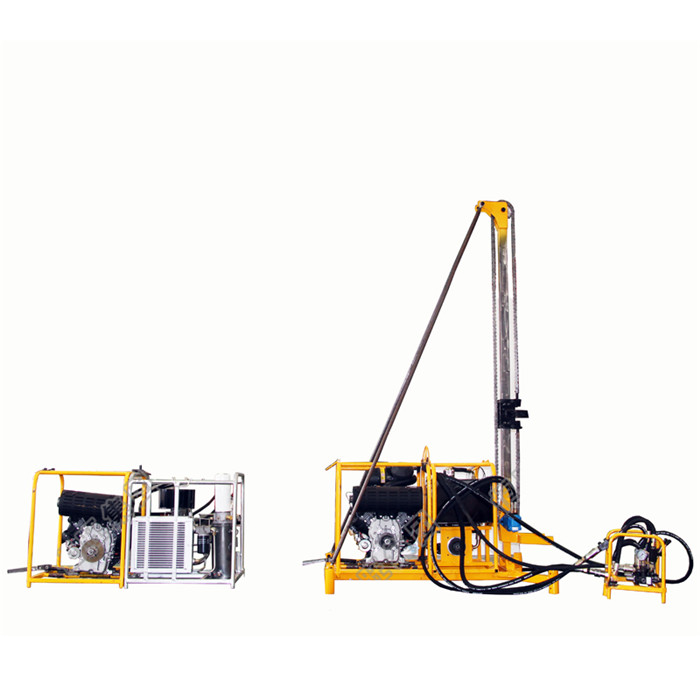 Complete equipment: tubes, rods, drills, tools, and accessories
1. hydraulic system
The rig converts the mechanical energy of the engine into hydraulic energy through a hydraulic variable oil pump and transmits it to two fixed-displacement hydraulic motors through pipelines to realize the rotation, pressurization and lifting of the drilling tool.
2. Air compressor
The air compressor unit consists of an air compressor and an engine. The role of the air compressor host is to provide the well drilling medium for air drilling and air shock drilling in the Drilling Rig, compressed air.