floor polishing machine is a kind of suction grinding machine. It can be used for sanding while grinding. It can effectively polish the concrete surface to improve the bonding between material and the ground.It can also be used to improve the flatness of the epoxy mortar layer by applying the putty in the epoxy. It can also be used for the polishing of the old epoxy coating of a small area.Marble Floor Polishing Machine is a cement floor grinding, paint treatment, steel plate descaling, epoxy intermediate putty polishing equipment,And the grinding and suction operation is convenient and quick.The Concrete Floor Polishing Machine with imported motor has a longer service life. The free replacement chassis is suitable for all kinds of concrete surface grinding and trimming, easy to operate and light, and can realize flattening and pulling for various epoxy floors.Multi-purpose: cement floor grinding machine, old epoxy removal, paint treatment, steel plate rust removal, epoxy intermediate putty polishing. Environmental protection: self-contained Vacuum Cleaner, the construction environment can reach dust-free.
Floor polishing machine technical advantages:
1. The head can be replaced freely, and the consumables can be freely configured (diamond grinding head, removing old epoxy grinding head, grinding wheel, sandpaper, etc.)
2. The main motor and the vacuum motor are controlled by separate switches for easy use.
3. Flexible, self-contained dust extraction , high efficiency, easy to operate! It is the best choice for epoxy construction.
4. The dedusting device is designed, which can be connected with Industrial Vacuum Cleaner for dust-free operation.
5. The body provides a power supply socket for the vacuum cleaner to avoid the trouble of requiring 2 cables during operation, which is convenient and simple.
6. Overloaded electrical protection, circuit breakers effectively prevent the motor from overheating and causing damage.
7. Long-life design, use rubber connector to connect the grinding disc, completely avoid the vibration caused by mechanical wear after the equipment is used for a period of time.
8. Three kinds of diamond grinding discs are available, such as coarse, medium and fine. The user can choose the grounding according to different base layers. You can also choose a combination disc that is cheaper and cheaper to use.
9. The depth adjustment handle can be used to adjust the grinding depth lightly, and the operation is stable and reliable without damaging the predetermined engineering quality.
Floor polishing machine specification:
Horsepower:20HP
Weight:383kg
Voltage:380-440V three phase/220-240V three phase
Rotating speed:450-1680rpm
Additional weight:40KG*1
Pads holder diameter:294mm*4
Application:Wet/dry
Water tank capacity:30L
Dust-vacuum connector:Yes
Control panel:Concentrate controller
Motor:IE2 high grade wonder motor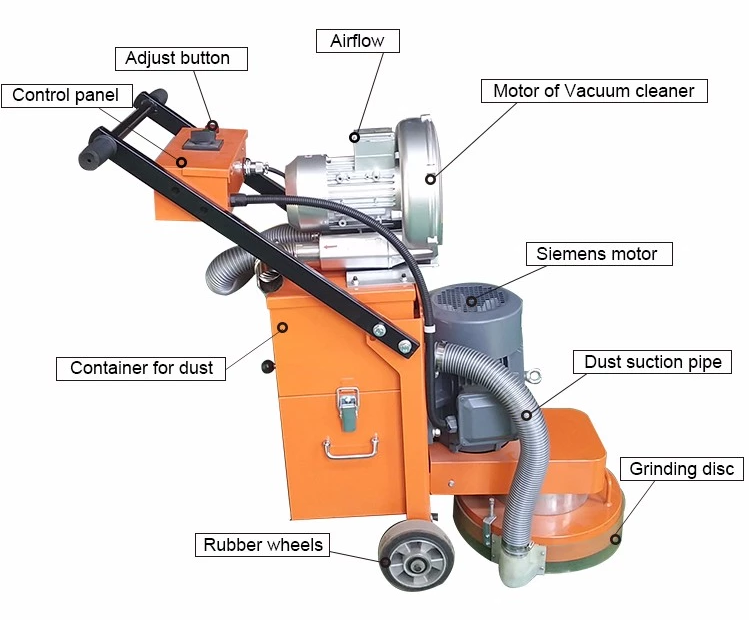 Choose the most suitable floor polishing machine for you,welcome all friends from all over the world came to inquire.